SF Series

"Slow-Feed" Covered Hay Feeder

A 6'x8' slow hay feeder for up to 8 horses at a time.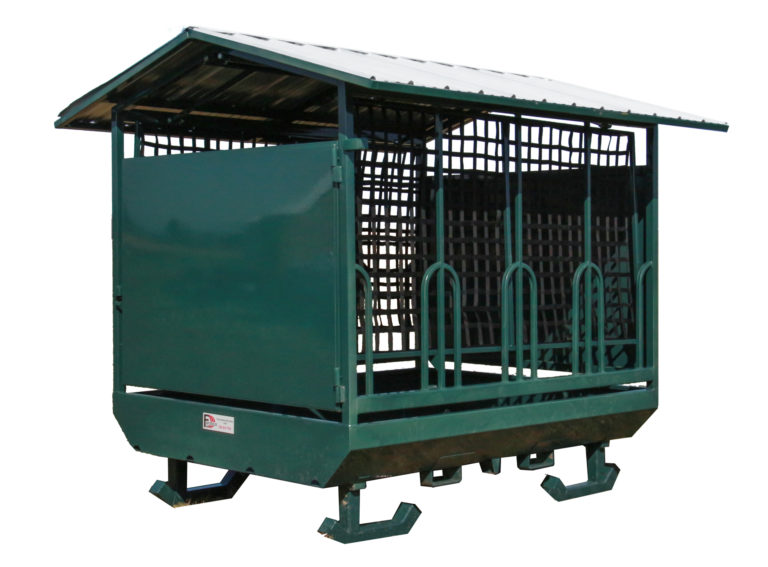 Slow feeding is the healthiest way to feed hay to horses. By recreating natural grazing habits, slow feeding provides a steady stream of fibrous nutrition, critical for maintaining the health of equine digestive tracts. The difficult part is slow feeding a large group of horses.
With the SF series, we designed horse hay slow feeders that could handle groups of up to 10 horses. These slow hay feeders allow the feeding of entire large round and large square bales, drastically reducing labor. Our slow hay feeders utilize a creative net panel design to make the transition from loading to feeding as simple as possible – once the bale is loaded, the panels lay down against it so your horses can begin their meal. The net panel comes standard with 2-1/2" holes.
To reduce hay waste and protect horses from potential mold exposure, our horse hay slow feeders come standard with a 29-gauge metal roof to shield half-eaten bales from the rain. 8 drain holes remove any moisture that does make its way into the trough. The SF series is designed to be the best large bale slow hay feeder on the market.
Here's what former Philadelphia Eagles running back Brian Westbrook thinks of the SF series feeder:
All the slow hay feeders for sale from Farmco are created to be durable. Each feeder is built with reinforced heavy-duty 12 gauge steel and coated with a two-part polyurethane paint in Hunter Green. Paint is applied electrostatically to ensure an even finish.
The SF series slow hay feeder also comes standard with: